Audio by Mark Jones - TAVES Best Sound of Show
My next stop was the "Audio by Mark Jones Room". This was one of the busiest rooms at TAVES 2015, and deservedly so. You can always count on Mark to deliver a room with very high quality components that have great synergy and which is dialed in to optimize performance in the room it is in.  This room has a Kronos Limited Edition Turntable (C$ 38,000) with a Black Beauty Tone Arm (US $8500), ZYX Cartridge (US $8500), Aurender N10 Caching Music Server (US$ 8,000), PS Audio Direct Stream DAC (C$7500), Tenor Audio Phono 1 Phono Stage (C$ 50,000), Tenor Audio Line 1/Power 1 Preamp (C$ 100,000), Tenor Audio 175S Power Amps (C$ 55,000), Kubala Sosna Speaker Cables and Interconnects and Magico S7 Speakers (US $58,000/ US$ 64,000 with special finish). The stands and platforms were by Trevor Doyle of Massif Audio Design.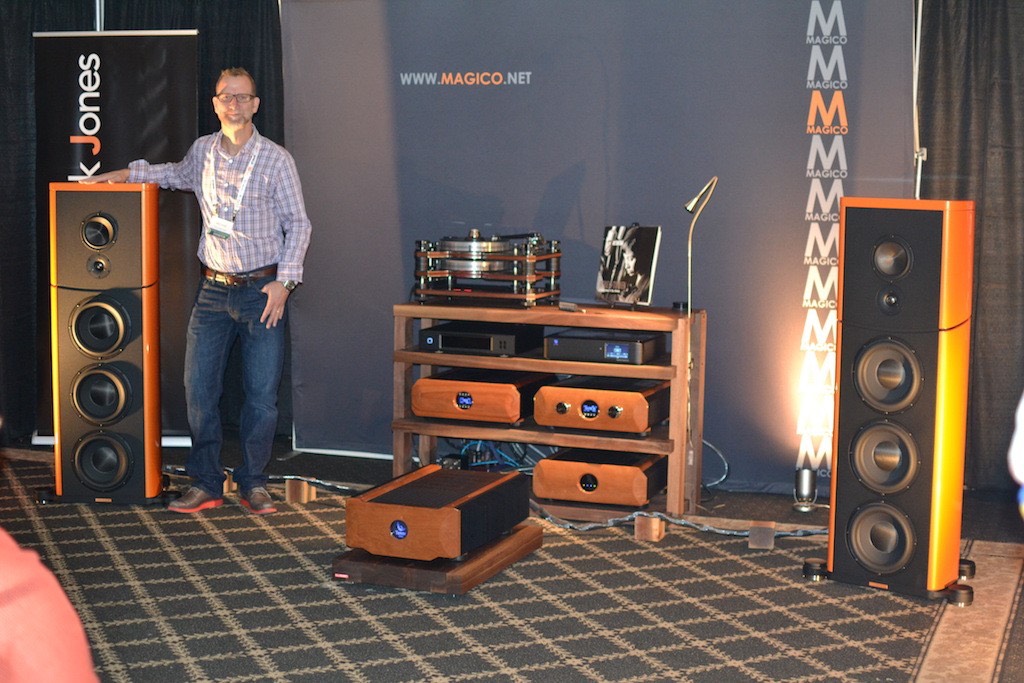 Mark Jones with my "Best Sound in Show" system
The sound in this room was almost everything that most audiophiles could hope for. The choice of music was excellent and the music was seductive to the point where it was difficult to leave the room. The sheer presence and transparency was quite breathtaking. In fact if I did not have a big show to cover and a very limited amount of time to do it, this is the room I would have spent most of the show. Thanks Mark for making it so easy to decide that your room had the "Best Sound of the Show."